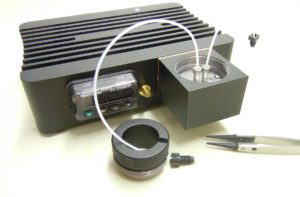 The QCM-I Mini measuring unit is a high-sensitivity mass sensor, which measures the change in frequency of a quartz crystal resonator and as a label free biosensor it measures the "wet mass" of the adsorbed layer in processes occurring at or near the sensor surface. The measuring principle is based on impedance analysis of the quartz crystal. The resonant frequency and the bandwidth of the resonant conductance curve are determined. The bandwidth or full width at half maximum, ( FWHM ) is direct correlation with the quality factor ( Q ) which is by definition the inverse of the well known dissipation ( D ).
Main features:
Both the frequency and the quality of resonance (FWHM or bandwidth or dissipation) are measured
Different harmonics (up to the 13th overtone at 5MHz crystals) can be quickly and sequentially measured
Temperature control from 15°C to 60°C (± 0,02 °C) is included on one channel
EC measurement module is optionally available with ITO-QCM sensors and BioSense controlled potenciostat
Two independently measured channels
External PC with Windows® 10; communication with QCM-I Mini via USB
Control and measurement: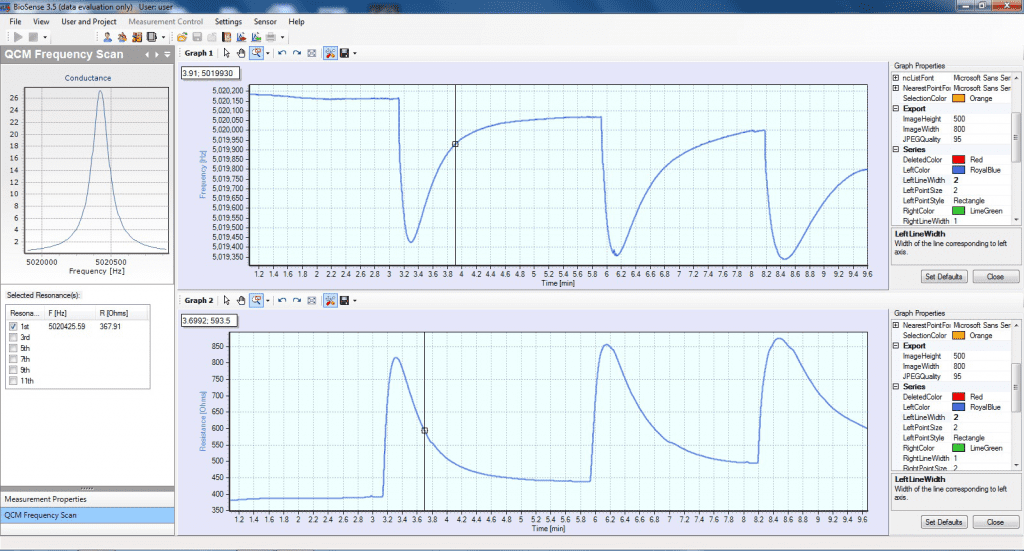 The BioSense software performs full control of the QCM-I Mini instrument. Two measurement modes are available:
Resonance: Measurement of resonance curve and calculation of the resonance frequency & FWHM up to 80 MHz
QCM-t: Continuous measurement of the resonance parameters and the temperature of the flow-cell.
Calculation: various QCM and ad-layer parameters can be calculated using standard or custom made models. All these parameters can be displayed on the screen, printed, saved or can be exported for further evaluation.
Sensors for the QCM-I Mini device: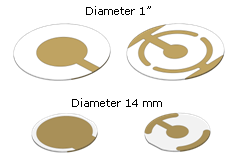 The heart of the Quartz Crystal Microbalance (QCM-I Mini) instrument is a thin AT-cut quartz crystal with an electrode on each side.
Quartz crystal sensors with Au or with ITO electrodes and a variety of pre-coatings are available. The modular sensor holder allows using either 14 mm diameter or 1" diameter quartz crystals.
In conventional QCM, the electrodes are typically made of gold which is an ideal electrode material except when applying for electrochemical measurements or for optical investigations using inverse optical microscopes. On the QCM-ITO sensor, transparent ITO electrodes are used and hence providing a more stable electrochemical measurement and can be used for optical investigation as well. For sensor details see separate sensor data sheet.